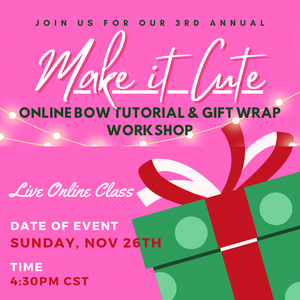 **Make it Cute 3** (REPLAY) Online Gift Wrap & Bow Making Workshop Demonstration
Regular price
$20.00
$0.00
Unit price
per
The holidays are coming and we are feeling festive! We are excited to be bringing back our 3nd annual "Make it Cute" online Gift Wrap & Bow Making Live tutorial with Emily from The Polka Dot Poodle. We are excited to get you ready for the holidays and get those wrapping and bow tying skills in tip-top shape!
We did a LIVE ONLINE Gift Wrapping Tutorial Demonstration on Sunday, November 26th. We recorded the LIVE WORKSHOP and you have the availability to purchase and watch the LIVE (REPLAY) at your convenience. 
NEW THIS YEAR...This years online workshop includes a step by step demonstration how to wrap a gift box from step 1. Perfect for the beginner wrapper that wants to have gorgeous gifts that need to know where to start. 
Another added bonus in this years workshop is 4 (not 2) EXCLUSIVE DIGITAL gift tag designs that all attendees can print (as many as you wish) for the holiday season for all your pretty packages. This bonus alone is worth the cost of the workshop!!!! You will not see these gift tags anywhere else on our website outside of the online workshop.
Emily will teach you not only how to make her famous raffia bows you see all over the GRAM, but also 4 additional bow tying techniques will be included in this years workshop. 1 of these techniques have never been taught and we are excited to share  with you all!
Attendees will receive a special discount code that can be used for ribbon/wrapping supplies at the end of the LIVE workshop for a short time period.
All attendees will be put inside a private INSTAGRAM group for the workshop LIVE event. At the end of the demonstrations, attendees will be allowed to ask questions and re-visit any techniques that are in question. 
The event was recorded, therefore attendees will be able to reference and REPLAY the content FOREVER! Plus we will time stamp each topic following the demonstrations so you can go back and watch specific topics if you want to re-visit a topic without watching the entire live again.
What the workshop will include: 
1.Step by step video showing you how to wrap a gift from STEP 1. 
2. Step by step video showing you how to make Bows using each type of ribbon broken down by specific ribbon type. (Raffia/curling ribbon/fabric bow) you can refer back to as often as you wish. Several different techniques will be shown.
3. Special discount code that can be used for ribbon/wrapping supplies at the end of the LIVE workshop for a short time period. This will be sent in an email after purchasing the replay ticket.
4.  Four Exclusive Christmas designed "digital" gift tags for all workshop participants that can NOT be purchased anywhere else on The Polka Dot Poodle or within our Graciously Gifted memberships!
5. Admittance into Private IG group to view the live tutorial and will be able to ask questions, refer back to content and share your NEW WRAPPING SKILLS with others for inspiration.
Who is ready to Make it Cute???
---